"ColorWorks on canvas, paper and wood."
Its All About The Process : moving , scraping, scrubbing, melting, overlapping and blending of mediums onto and around the surface"
" Playing on the Surface "
- mfk -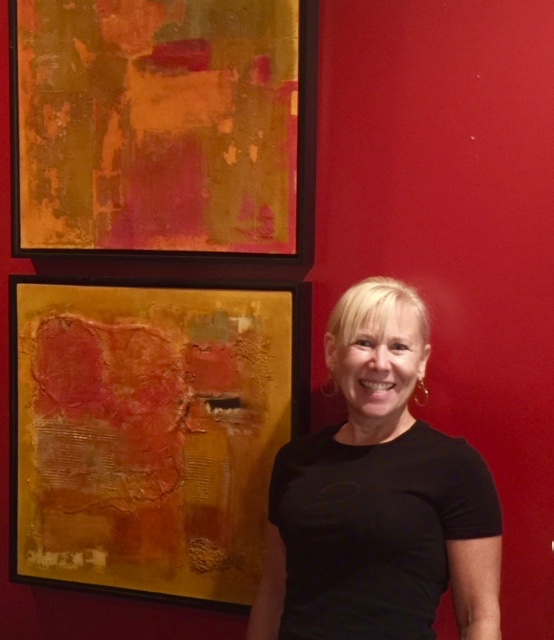 MEAGHAN FENNESSY KEELEY:

BIO /CV PAGE
_______________________________________________________________________________________________
Showings:
Art House Charlotte, Summer Show 2018, Charlotte, NC
Art House Charlotte, Art Crush , Winter 2018, Charlotte, NC
Art House Charlotte, Spring 2017, Charlotte, NC
Art House Charlotte, September, 2017, Charlotte, NC
Art House Charlotte, Spring/Summer Show, 2016, Charlotte, NC
JWV Artists Charlotte in Bloom, April 8, 2016 @ The Frock Shop, Charlotte, NC,
Galleria 360, Florence , Italy, "Arte Donna ", March 2016
JWV Artists Pop Up Show, Charlotte, NC, February 2016
JWV Artists Winter Show, Charlotte, NC, November 2015
Galleria 360, Florence , Italy, "Colors of the Soul ", November - December 2014
Galleria 360 @ Emirates Palace Hotel, Abu Dhabi , March 2014 - March 2015
JWV Artists Spring Show, Charlotte, NC, March 2014
Galleria 360, Florence , Italy, "Summer Art Florence", June - July , 2013 and thru their permanent collection
Christs Church, Charlotte, NC "Collective Artist Show September 2014 "
Sundae Art Gallery, Concord, NC , Summer 2013 thru Spring 2014
Agora Gallery, NY,NY, "The Essence of Abstraction" Collective Show, March 2013
JWV Artists Spring Show, Charlotte, NC, March 2013
Red Sky Gallery, Charlotte ,NC " Braitman Studio Artists' Juried Exhibition", January / February 2013
Senor Tequila's Restaurante, Charlotte, NC (commercial space) 2011- 2012
Education:
Artist in Residence with the Braitman Studio, Charlotte, NC , Spring 2012

Teacher: Assistant to Fundamentals class, Braitman Studio, Spring 2012 - Fall 2012

Present Student: Charlotte Zweber (figure work)

Past Student: Susan Matthews, Charlotte, NC (color palette)

Past Student: The Foundry, Charlotte, NC (bronze sculpture techniques)

Past Student: Vaino Kola (printmaking, figure drawing and painting)

Past Student: Nancy Helfant (sculpture techniques of clay, wire and found objects)

Degree: B.A. Art History(studio art), Wheaton College, Norton, MA
Publications/Honors:
AHA Fine Arts Hall of Fame Honoree,

T

he Academy of the Holy Angels, Demarest, NJ , October 2018

Braitman Studio ( figure class),

Painting of the Month, October 2015

Charlotte Talent Magazine,

February 1st, 2013 (on line publication)
ARTisSpectrum , The Chelsea Perspective, Volume 28 , November 2012, (page 82)
Work Background:
mfk designs, inc. ( art and floorcloth design company) 2005-2010

Gardner- Moross Inc., NY, NY and Charlotte, NC (floorcloth design company)1992-1994

John Lewis, Inc. Boston, MA ( jewelry designer) 1988-1990

Edith Schroeder Restoration, Gloucester, MA 1987-1988 (art restoration apprentice)
--------------------------------------------------------------------------------------------------
Artist's Story:
Diving straight into abstract painting, with the guidance of acclaimed artist Andy Braitman, Meaghan is working in mixed media. Thriving on the larger canvas and its capacity for drama and viewer interaction , she is experimenting with pastels, oils , acrylics, charcoal and the encaustic application. She is coming alive and truly enjoying her dialogue with the surface of the canvas. Meaghan's strong element of line and architectural shapes and her fascination with surface interplay, has truly brought her latest pieces to life. Her build up of texture and media play, adds a beautiful depth and intrigue to her work.
A former floorcloth artisan, Meaghan has experimented in mixed media and collage techniques using canvas as the building block to create positive and negative space relations. Primary colors and bold lines bring out the full potential of the large canvases from which she worked. Shapes ebb and flows across the foreground creating both positive and negative space and a sense of depth and weight to her images.